Linux Uprising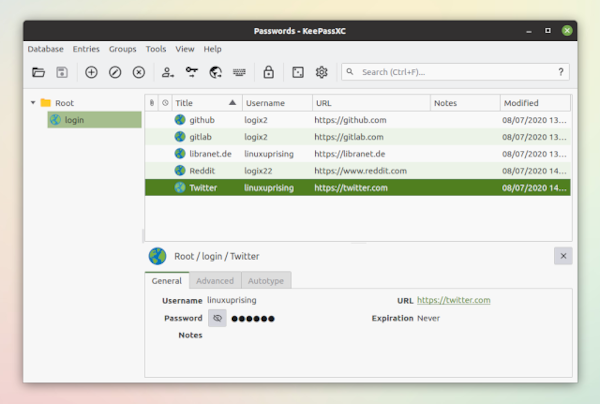 KeePassXC 2.6.0 was released recently with improvements like an overhauled user interface with new light and dark themes, new offline password health check, check passwords against the Have I Been Pwned online service, and more.
KeePassXC is a free and open-source password manager started as a community fork of KeePassX (which itself is a fork of KeePass), which is not actively maintained. The application is built using Qt and runs on Linux, Windows and macOS.
The application uses the KeePass 2.x (.kdbx) password database format as its native file format in versions 3.1 and 4 using AES encryption with a 256 bit key; version 2 of the database can be opened, but it's upgraded to a newer format when opened, while KeePass 1.x (.kdb) databases can be imported into a .kbdx file as a one-way process.
For easily entering passwords in a web browser, KeePassXC comes with browser extensions for Mozilla Firefox and Chrome-based web browsers (Google Chrome, Chromium, Vivaldi).
One feature that's missing is build-in password cloud synchronization. This can still be easily achieved though, using a third-party cloud storage and synchronization service like Nextcloud, Dropbox, Google Drive, OneDrive, and so on, by simply storing the KeePassXC database in the shared cloud folder.
Our comment
Never store your password manager file, encrypted or not, in the cloud!