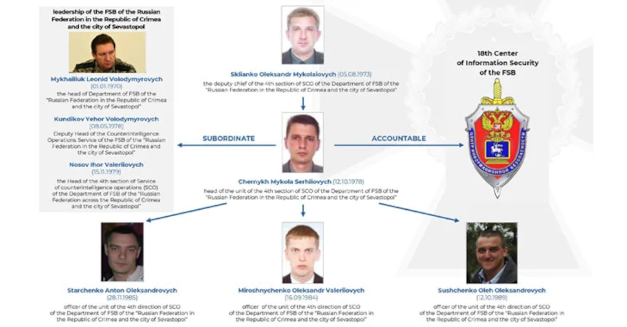 Ukraine's premier law enforcement and counterintelligence agency on Thursday disclosed the real identities of five individuals allegedly involved in cyberattacks attributed to a cyber-espionage group named Gamaredon, linking the members to Russia's Federal Security Service (FSB).
Calling the hacker group "an FSB special project, which specifically targeted Ukraine," the Security Service of Ukraine (SSU) said the perpetrators "are officers of the 'Crimean' FSB and traitors who defected to the enemy during the occupation of the peninsula in 2014."
The names of the five individuals the SSU alleges are part of the covert operation are Sklianko Oleksandr Mykolaiovych, Chernykh Mykola Serhiiovych, Starchenko Anton Oleksandrovych, Miroshnychenko Oleksandr Valeriiovych, and Sushchenko Oleh Oleksandrovych.
Since its inception in 2013, the Russia-linked Gamaredon group (aka Primitive Bear, Armageddon, Winterflounder, or Iron Tilden) has been responsible for a number of malicious phishing campaigns, primarily aimed at Ukrainian institutions, with the goal of harvesting classified information from compromised Windows systems for geopolitical gains.